Development of custom-tailored ERP and warehouse management systems, mobile applications, web applications, websites
Prosper mainly develops non-standard, out-of-the-ordinary software solutions. We can be effective in all cases that exclude stereotyped, general proceedings such as in-box programs.
Our target group has been formed of firms with special, sophisticated demands that can not be properly fulfilled by a ready software.
Our portfolio
In the more and more diversified world of creating IT infrastructure, our company has achieved high level competences having spent more than three decades in the ICT industry.
Prosper does not aim to become an expert of each and every technical branch, but we do make efforts to benefit the industrial development involving our core competence. We need to do so in order to remain competitive and to meet our customers' needs on a high level.
Number of software made by us
Our software solutions including the largest which consists of over 800 thousand program rows.
Number of projects in information technology
Software development and IT consulting projects (without trading)
Number of registered and closed tickets
The number of processed and closed cases in Prosper's ticket adminstrating system
The number of customers we have had contractual relationships with and we have carried out informatics development for
Our services and solutions
Warehouse logistics (WMS)
Warehousing activity requires accurate, precise and fast operation. With its more than 15 years of warehousing experiences Prosper can help fulfill these expectations. In fact the introduction of our system reduces the shortage and the time spent with inventory, the items can be localized exactly and the number of serving errors can drop to almost zero.
Some important functions:
Customizable WMS
Automatic storage cell offer
Manual and forklift commissioning
Stock accounts in quality and value
Customs clearance at selling (not at arrival)
Free stock cell arrangement (chaotic stocking)
Revision, collective revision
Double round blind inventory
Electronic data exchange (API, interface) to third parties (forwarder, customs agent)
Web applications
Internet presence is trivial today so the question for companies and shops is rather the content and unique appearance. Since the increase of internet speed business solutions can be made with a serious data traffic. Thus massive thick client solutions can be completed really well with web modules or even independent web applications can be created as well.
We have already made complicated add-on module for sales information system, multilingual wholesale and retail webshop based on more companies' information system in more countries, special analyzing software and simple websites.
In general we provide the following criteria:
Business process based development
Generally deep and complicated background functions (backend)
Responsive appearance (mobile friendly)
Search engine optimization
We are eager to face even the most complicated challenges 🙂
Information systems
The applications we develope are based on the Customer's processes; as a result potential future traps and inconveniences can be avoided which might just arise – from an even well meant – task specification.
The great quality of Prosper's end product is guaranteed by the professional experiences of several decades and the robust, reliable development environment.
From technical aspect our software can be thick or thin client solutions but nowadays the two are combined and used as a hybrid. Information handling is done at all times by a robust SQL server.
Mobile applications
We are at Your service when it comes to business applications' extension to mobile device or developing an independent mobile application as well. The native written mobile application's great advantage is that you always have it by hand, it can be integrated with the telephone's services or metadata, and – unlike a web application – it can be used offline without internet connection.
Android and iOS
Solo business applications or accessories
Up to date technologies
Innovation
Sort-by-light device for reducing pick up time drastically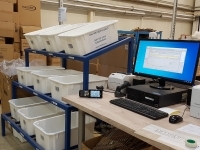 The purpose of the sort-by-light device is to help you pick up goods by combining several small orders into a single pick-up-list. Therefore, pickers' working hours are not scattered and their costs can be kept lower. The appliance reduces the exposure of the warehouse to fluctuations and labor costs through digitalization. ► Click on the picture
The main advantages of the device:
A digitalized solution to the problems of human errors and living labour costs
It is based on state-of-the-art IT components
Merges multiple (6/9/12/15/18…) orders into one pick-up-list and into a single revision
Use of wireless scanner (mobile data logger)
Once the scanner is released, it can be used for other purposes
It can also make revision unnecessary
Connected (interface, API) to the warehouse system (WMS)
Data output to the Warehouse (WMS) system database
Built-in error handling
IT consulting
Any IT environment or infrastructure can have a real business value only if it is continuously operational, its errors are always corrected. Our goal is to make sure that our Customers' valuable work is not blocked by any IT issue. In order to achieve this Prosper does:
Server virtualization
Supervision, maintenance: hardware / software / server / client
IT consultancy
Electronic document handling ( e-marketplace, data interchange – EDI)
Planning and realizing of IT infrastructure
Management consulting
A management consulting project is often indirectly related to software development as the first work phase. Prosper's main activity, software development requires the assessing, interpreting and in case rationalising the Customer's work processes so that a future software can lean on it throughout its whole lifecycle.
Thus it is obvious to utilize the process assessment's results to reveal hidden blocks and make the processes more efficient, and on the other hand make use for software development. Of course measuring inner and outer customer feedbacks plays also a crucial role at tuning the organisation to the processes and shaping regulations.
Energy analysis in an expert way
We provide supervision, analysis and storage of data for remotely readable electric meters. Based on our energetics experience of twenty years we have created such a support system that massively reduces the precious working time spent on analysing the consumption data. It is an immense help for energeticists!
Infrastructure development
Prosper's technological environment makes extraordinary flexibility and platform independence, even at a reasonably priced serving infrastructure or even more for free. The goal is that the IT infrastructure helps utilizing the resources of the customer the most efficient way. Therefore we provide the following services:
Server virtualization
Supervising of server software, operation systems, office applications
Security software
Used brand PC-s and notebooks with warranty
Other hardware units, PC-s, periferies
Note: Carousel will only load on frontend.